We take our breeding program very serious in choosing the right adults to bring into our program.  All of our adult dogs stand for excellent temperament, structure, movement, and working ability.   We also do all necessary genetic testings for the breed to assure a healthy long life.   All adults will be tested for or cleared by parentage for PRA, HC, MDR1, OFA & CERF.

AKC Miniature American  &  Australian Shepherds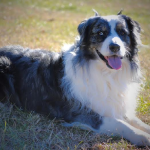 Doc is a stocky aussie.  He is very concerned about everyone loving to all.  He is kinda like the daddy to all the others cleaning them up. He never meets a stranger and loves playing hide n seek or in the pool with the children. He is always ready for a fun time!

Wyatt is a blue merle.  He is a very friendly and outgoing boy.  Loves people but especially children and his favorite is to go for rides. 

Pepper is a black tri with blue eyes.  He is very playful and loves being with other dogs. When you meet Pepper you will fall in love with him.  He is truly a special dog with a loving personality.  They broke the mold when they made this one!

AKC Miniature American Shepherd

Mic is a red merle.  He is a special dog who thinks he is human . He gets his great disposition from his momma, Ruby. He loves everyone people, dogs cats etc. He loves being with the babies after they are weaned from their momma. We call him the gentle giant.  

Click Smaller Photos to View

STRICK'S STRUTIN CASANOVA

MINIATURE AMERICAN SHEPHERD

MINIATURE AMERICAN SHEPHERD

STRICK'S STRUTIN MICKY YOUR FINE

Pepper is available for stud service

Hugger is available for stud services

Hugger has had all his clearances done and he is clear.  

Strick's Strutin Pepper Jack 

Pepper is co-owned with Donna Baker